Solution
Smart Office is a highly customized solution built over SharePoint Online Modern framework catering to business process automations at ease, meeting business requirements and experiencing the expectation set forth by Indian Bank.
PC Solutions Pvt Ltd. leveraged SharePoint Online Modern Framework & Lists, Power Automate (Plan 3) Dynamics 365 Professional and developed the following modules as part of Indian Bank's Smart Office:
eNote: Highly customized approval mechanism flow used for sanctions across all the departments for various endorsements, purchases, SOP's and formal consents.
eDak: This module monitors and tracks all the records of the incoming and outgoing notices/circulars/broadsheets exchanged with the regulatory bodies.
Committee Approval: Highly critical and extensive process, due to multiple stakeholders' involvement, is completely automated by our developers again on the SharePoint Online platform right from initiation of a committee involving certain stakeholders, till the publishing of the Minutes of the Meeting (digitally approved (e-Signature) and agreed by stakeholders).
With PC Solutions Smart Office, we don't give you a solution, instead, we insist you to tell us how to customize our offering to optimize your specific requirements.
Smart Office- Explained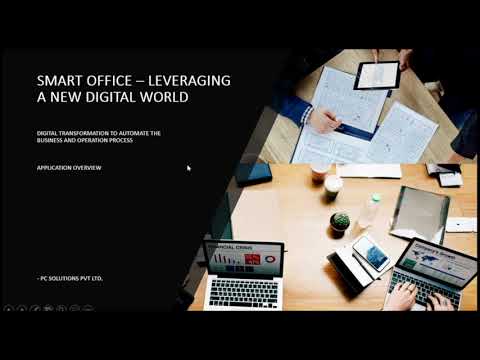 The subscription-based Microsoft Modern Work Place provide them a platform to develop a customized tool that is meeting their requirements perfectly. At the same time, it protects business communications and sensitive information by meeting internal and regulatory compliance requirements.